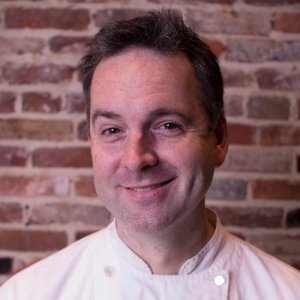 When Chef Matt Seeber was 16, he applied for a job in the grounds and maintenance office at a country club near his home in the 'burbs outside Philly. He thought, that's cool. I'll be THAT guy…you know him…riding the tractor, Walkman on, he's got the life. But sadly, the country club was not hiring 'that guy.' They were, however hiring a dishwasher. So, there you go…Chef Matt Seeber of Heavy Seas Ale House started out washing dishes.
When he finished high school in Langhorne, PA, he knew higher ed was not for him. Since he had had worked in restaurants all through high school, he decided to go to culinary school. His boss Chef Mark Palmer wrote him a recommendation letter for CIA, he was accepted and he started culinary school as soon as he graduated from high school. And it was a perfect fit. Says Matt, "You know when you're young…you have very little fear. You just do it. As a young line cook, I had no fear. No fear of trying new things, no fear that I would mess up. That's great, you know? You just go."
For his externship, Matt worked at DiLullo Centro in Philadelphia. He worked the grill, he got really good at important things like meat temps and knew he could handle the line. He worked there for another year after he finished CIA, working the pasta station and as well as other positions – he wanted to learn everything. "Then, I met a girl." She was also at CIA and after school they moved to NYC together in 1991. They were married and stayed together 10 years.
Frank Crispo, for whom Matt had worked at DiLullo, owned Crispo on 14th Street in NYC, as well as the super cool late night restaurant industry hangout, the Chefs and Cuisiniers Club with Charlie Palmer and Rick Moonen. It was open really late and all of the big chefs of the time came there and encouraged their staff to come after service, too. Matt worked with Frank at Crispo for a few years. "I learned so much, most of all how to compose a dish really well." Once he had gotten more and more experience under his belt, he wanted more and moved on to Aureole with Charlie Palmer. He worked Garde Manger – and being in that position in a place like Aureole, Matt learned to work tough, work fast, multi-talk and really honed his knife skills. He worked with Charlie for a year and a half at Aureole, gathering a balanced skill set and then went to work with ex-Aureole chefs at Symphony Kitchen for about nine months…then, a new restaurant, Gramercy Tavern with Tom Colicchio and Danny Meyer. (This is the part when I start to become the biggest nerd during our interview…) Have you seen this on Netflix? Watch it…it's pretty great.
Matt knew who exactly who Chef Colicchio was – he had enjoyed a particularly memorable meal at Mondrian, where Chef Colicchio had earned three stars from the New York Times. Says Colicchio, "From the early days of Gramercy Tavern, it was obvious that Matt had more to offer than just cooking skills. I saw in him an innate leadership ability which he developed and ultimately took to a new level while running my Craftsteak operation in Las Vegas later in his career."
When he joined Gramercy Tavern, he started as a line cook. It was a very structured kitchen and he worked the fish station. He eventually ran the pass, then was promoted to sous chef after a year and a half. While Colicchio was opening the first Craftsteak, Matt ran Gramercy Tavern, then later he decided he wanted a change and left regular kitchen work, working at the Union Square Farmers Market in the summers, along other temporary gigs. Matt remembers, "at Gramercy, the chefs ran back and forth from the Union Square Farmers Market all the time. We were doing farm-to-table but we didn't really call it that, I guess. We were like the Alice Waters operation in NYC." (He laughs…) I used to deliver produce from the market to both established and up-and-coming chefs like Mario Batali at Babbo and tons more.
Then came Gustavino, the massive, massive restaurant under the 59th Street Bridge. "That was high volume, man" says Matt. He stayed there about four months (it's now an event venue), then came Danny Meyer's third restaurant, Tabla, the Indian restaurant with Executive Chef Floyd Cardoz. That was a new cuisine to Matt. "I had no frame of reference for Indian food, plus the kind of food Floyd was doing — the menu was pretty 'out there' for the time." Colicchio saw Matt's talent as an expediter, which is no easy job. He was a pro at it. He spent one year at Tabla, then went to the short-lived, Bid, a small (70 seats) restaurant inside Sotheby's offices on the Upper East Side. The restaurant opened on September 10, 2001. Really. Says Matt, "first, the fact that it was really destination dining – it was way, way east at 81st & York was tough. Then, once 9/11 happened…the place never really took off. " It lasted for ten months but Matt saw it as a good test for him as a chef. He'd never done tasting menus, really fine dining before. So, he saw the experience as a good one.
Then, he started teaching at the French Culinary Institute in NYC and that was definitely not for him. Not at all. He realized that he needed to get back to cooking and being creative. He was recruited by the owner of Raymond's – a high end restaurant in New Jersey to consult on a few dishes – and then Raymond's changed over to a diner concept. "It's kind of like a diner version of Balthazar. It's really nice…and also super busy. On a Saturday or Sunday, they run an average of 800 covers," says Seeber. Wow, 800 covers? Holy moly. Matt worked there for a year and a half.
In 2003, he again connected with Tom Colicchio. Craftsteak at the MGM Grand in Las Vegas had been open a few years and he recruited Matt to join his team. Matt ran Craftsteak Vegas for several years and he also traveled to open other Craftsteak locations, but Vegas was his home base. Says Seeber, "Vegas definitely had its perks. Working at the MGM Grand, great pay, insurance, 401k, great food. But I didn't find it to be a super creative environment." By the time Vegas happened, he was with his current wife, Stacey, whom had moved from Brooklyn to be with Matt. They bought a house in Vegas in 2007 and lived there until 2011. Their son Egan was born in Las Vegas, so yes, they definitely had some good memories there. But it didn't feel like home. They looked at several cities where Stacey could continue her studies in child welfare and Baltimore (and the University of Maryland School of Social work) won. I love when Baltimore wins, don't you?
So, Matt came on board at Heavy Seas Ale House when it opened in 2011. Working with business partners Mike Morris and Vince Cassino, he was excited to build a restaurant brand. Mike and Vince gave him their vision, explained how the neighborhood would be developed over the years and basically gave him the keys to the car. Says Monogram Hospitality Partner, Morris, "Matt is the most under the radar, über talented chef in Baltimore. Having spent over a decade in the culinary epicenters of New York and Las Vegas under the mentorship of chefs and restaurateurs such as Tom Colicchio, Steve Hanson, Floyd Cardoz, and Danny Meyer, most in Baltimore don't know they have a world class chef right in their backyard. Matt is driving the culinary direction of five (and growing) different restaurants ranging from fast-food to casual, locally-sourced to fine dining – all with the unassuming nature of a father of three. Matt has an innate desire and patience to teach both the science and the art of cooking, while also understanding the business behind running a successful restaurant. Plus, he still knows how to have a good time (with heavy metal, preferably). Baltimore is lucky to have Matt."

Was food a big part of your upbringing? Did you cook when you were a kid?
MS: I didn't cook much, no. My mom was a good cook, she learned when she got married and I watched and learned from her. She had a repertoire of like 20-30 dishes (on index cards in recipe box, remember those?) and rotated them. About 6-7 nights a week from start to finish, she'd have dinner ready and on the table in 45 minutes. I later learned what a great skill that is, timing is so key in cooking. We didn't eat out that much, not like families seem to now. Being together as a family with my grandmother and everyone at the holidays – that was a big deal. I remember Christmas and Thanksgiving being a bigger deal than anyone's birthday, really. Gathering around food was important and I paid attention to how it all came together.
Lots of kids get to choose the meal on their birthday…anything they want (to a point, I suppose…) What would be your 'birthday meal' now? What did you ask for when you were a kid?
MS: Well, my wife hates my lack of attention to special occasions. But as a kid, we didn't always celebrate our birthdays on our actual birthdays – and that was okay. We often would schedule things when it was good for everyone. There was this restaurant in Langhorne called the In Flight. It literally looked like a plane and I always got the lemon cake with cream cheese frosting and a candle in it. I remember it clearly. At home, my mom would ask me, "What kind of cake would you like?" And the answer was always, always "Angel food cake, please." And now? Maybe a date night with Stacey. But with the kids, it's hard. One birthday I will never forget, we went to the place where we first met and Stacey went all out. She decorated the place and surprised me. It was so fun, no one had really ever done that for me before. (Looks down, big smile.)
I know you're really into music – heavy metal specifically. Is there ever music playing in your kitchen at Heavy Seas?
MS: (Laughs…) No, it's totally quiet. If I'm in there by myself, maybe. But otherwise, it's just too distracting. And really, no one wants to listen to my music anyway, so… (Laughs hard.)
Having worked for a famous chef like Tom Colicchio, how does that change your career?
MS: Well, when Gramercy Tavern was starting, he wasn't famous and celebrity chefs were less of a thing than they are now. I knew I'd learn a lot from him and I really wasn't surprised by the trajectory of his career. In 1993, he won Food & Wine Best New Chef. Then, Gramercy Tavern took off and we had all of the big chefs come through…Keller, Trotter, Meyer, etc. I cooked at the James Beard House with Thomas Keller. That's pretty cool. I bummed a cigarette off Tony Bourdain at the Beard Awards. So, yeah, there was a bit of that celebrity thing around me, I guess. Celebrity and press tends to add pressure and scrutiny for sure. But watching Tom cook, the way he composed dishes, that was really cool. Often 30 minutes before service, we were there in the kitchen deciding what the special would be and he'd plate it and, boom. There is is. That was really something. The way his brain works, the way he cooks is pretty amazing.
What food trend can you absolutely not stand?
MS: I guess food and restaurant trends that one place does and then everyone copies it – and then you see it everywhere. The lack of originality. Eater says something is a 'thing' and then you can't escape it. The other thing is chefs who can't really cook or don't have a frame of reference for what they're going to be doing beyond, say, ten years. It's annoying. Food television feeds this issue. People are getting into cooking for the wrong reasons. You really need an incredibly strong work ethic and passion for food. Cooking is really a calling and we need to get back to that. It's not for everyone and that's okay.
How do you balance home and work? I guess days off are big.
MS: First, my wife is incredibly flexible with my schedule and commitments. She knew going in what she was getting into. (Laughs…) I am always on my phone and I love and hate that. But having that technology is helpful, you know? Like when I need to be with my kids or have a family commitment, I can still be connected to work via my phone. That's not really balanced, what is, really? You do what works. By nature, I'm a hands-on person, I like to be there. But with running multiple restaurants, you hire really great people and eventually, it's manageable. Having kids creates balance on its own, though. You tend to go where you are needed most. Also, I love reading. And it's specific, I like rock musician autobiographies. Really. It's great to stop thinking about food, turn my brain off. It's a complete escape.
Do you have time to watch any food tv? If so, are there any celebrity chefs you really enjoy?
MS: No, not really. I don't have cable. My wife watched Top Chef Masters and I caught that with her some. But Chris Cosentino seems really genuine and I have some friends who've worked with him and respect him a lot. Also, Marco Canora of Hearth in the East Village. He cooks with heart and soul, not flashy.
What do you like about Baltimore?
MS: I like that it's growing and changing. For example, when I came to check out the location for Heavy Seas Ale House, I wasn't sure. But I trusted my partners, Mike and Vince. I knew they knew Baltimore way better than me. Also, the people here are just sort of 'what you see is what you get', you know? Much more than Vegas or NYC, DC. When we were considering our move from Vegas, we looked at a lot of places: Los Angeles, Austin, Ann Arbor, Chicago, NYC and Baltimore. We liked the idea of being in Baltimore but near DC. And being near my family in Pennsylvania, too. I just knew working in DC was not going to be for me. I knew I wouldn't find what I was looking for there. Too much like NYC and LA, in that people are always trying to one-up each other. That's not my scene.
What are some of your favorite restaurants in the City? Any that you're hoping to try?
MS: We don't really go out much, it's just hard with little kids. We always talk about how we'd like to go back to certain places and try other new ones. We really liked Arômes in Hampden. The service was really great, Steve and Gilles are all substance there. No real flash.
Okay…obligatory…when you cook at home, what do you like to make? Do you have a favorite 'go to' meal at home?
MS: I like to make pasta, love carbohydrates. Simple stuff like spaghetti and meatballs. I like to make simple things but really focus on making it really flavorful, making it taste better every time I cook it.
You recently were treated for cancer and as usual, you were so low-key about the whole thing. How are you feeling now?
MS: Well, prostate cancer runs in my family – my dad, grandfather and uncle all had it. We're so lucky to live in Baltimore where we can get the very best medical care. I was diagnosed in June 2014, had surgery and was out of commission for a few weeks. I was, of course, anxious to get back to normal. I was fortunate in that I didn't need chemotherapy. I finished up radiation in May 2015 and feel stronger all the time.